Overview
You can view your archived content in Wayback from inside your Archive-It account, whether it's private or public. Wayback pages are available 24 hours after One-Time or Scheduled crawls complete or you save a test crawl. This article will show you how to find them in your account, how to browse them, and how to search them.
Prerequisites
Production crawls (One-Time or Scheduled) that have completed 24 hours ago. Test crawls that have been saved 24 hours ago.
Note that you can't access unsaved test crawls' Wayback pages this way (but you can through your crawl reports' seeds reports' Wayback tabs).
On this page:
Find your Wayback pages
Begin inside your Archive-It account by clicking on the Archives tab:
Stay on the Wayback tab in the center of the page.
Enter the URL in the View Specific URL in Wayback filter box.
Select the collection you crawled it in with the drop down arrow.
Click Go and a Wayback calendar page for the URL opens.
Alternatively, use the drop-down arrow under Show Wayback Seeds for a Collection:
Select one of your collections.
Seed URLs will be listed in the collection.
Click the Wayback link next to the seed.
The Wayback calendar page will open.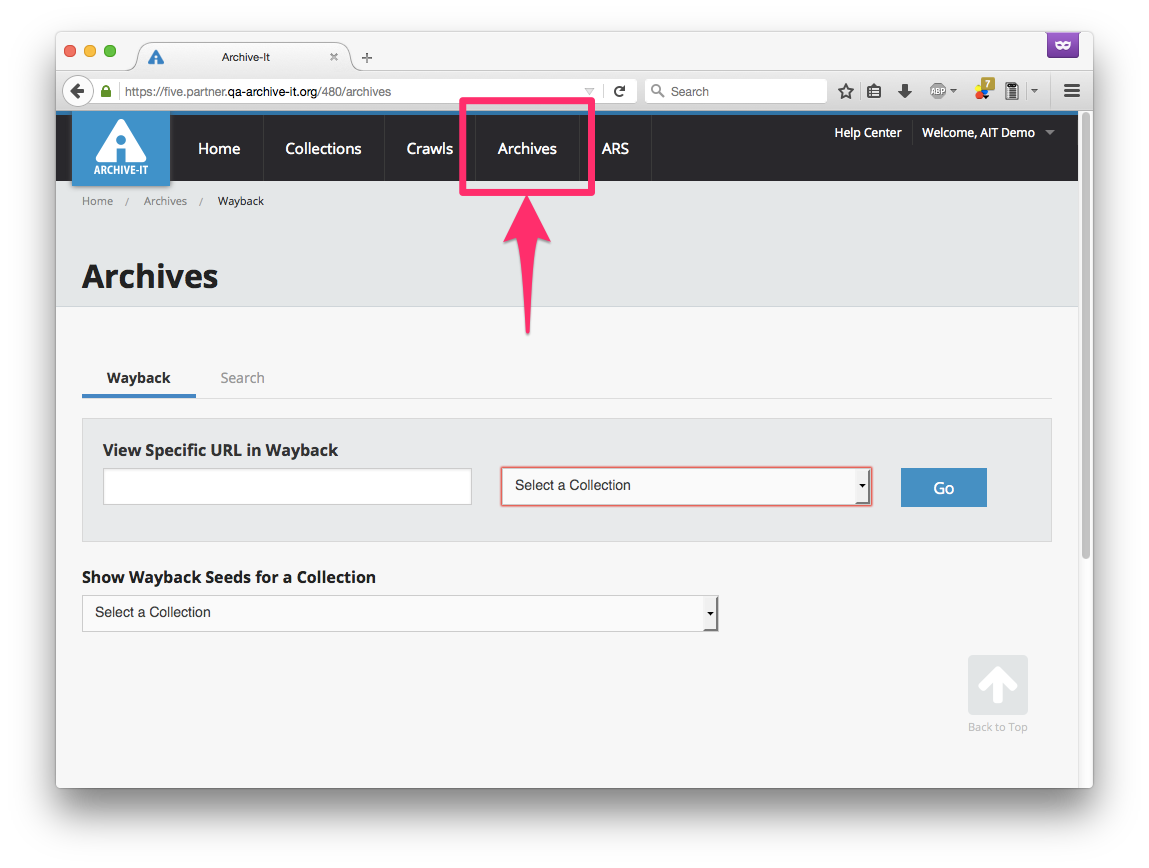 Browse your Wayback pages
Start on a Wayback calendar page (above):
Change the year by clicking on it in the timeline near the top.
Hover over the date you want to see.
Click directly on the time you want and the Wayback page will open.
Scroll down the page and follow any links on the page.

Note some links may not have been collected and will show the message "This page has not been archived here."
Search your Wayback pages
You can search your archived content 7 days after the crawls complete and the content has indexed. From the Archives tab:
Select the Search tab in the center.
Enter a word or a phrase on the left.
Narrow the search to a collection by using the drop-down arrow on the right (or Search All Collections by default).
Click Search and full text results will appear listed.

One result will show for each host by default.
You can click the Show all results for this host link at the bottom of each result to see more.

Click on the title to open the Wayback calendar page.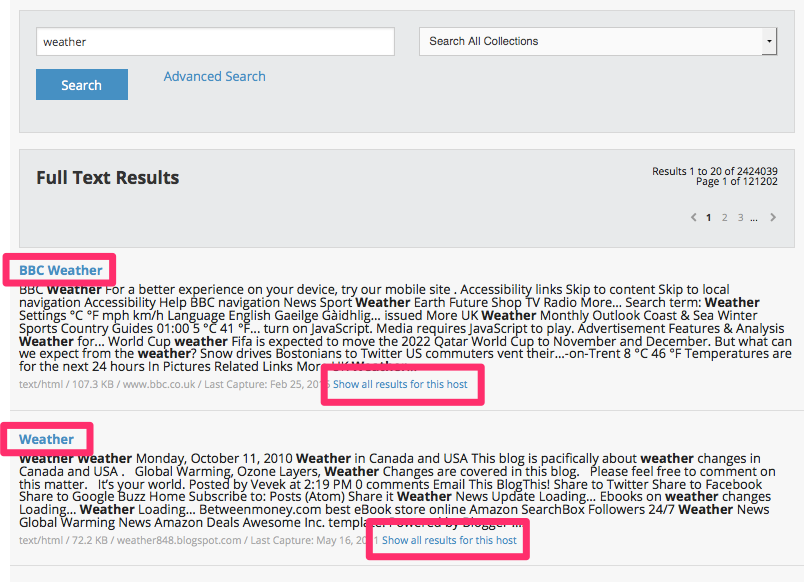 Advanced search
You can continue the search to conduct more granular full-text searches in the Search tab. With your keyword in the search box, click the Advanced Search link next to the Search button. This opens an interface where you can limit the search further to:
One or more collections with the check boxes
Exact phrases or excluding that phrase
Certain hosts (and the number of documents from hosts)
Specific file types (for example, PDF)
Dates or date ranges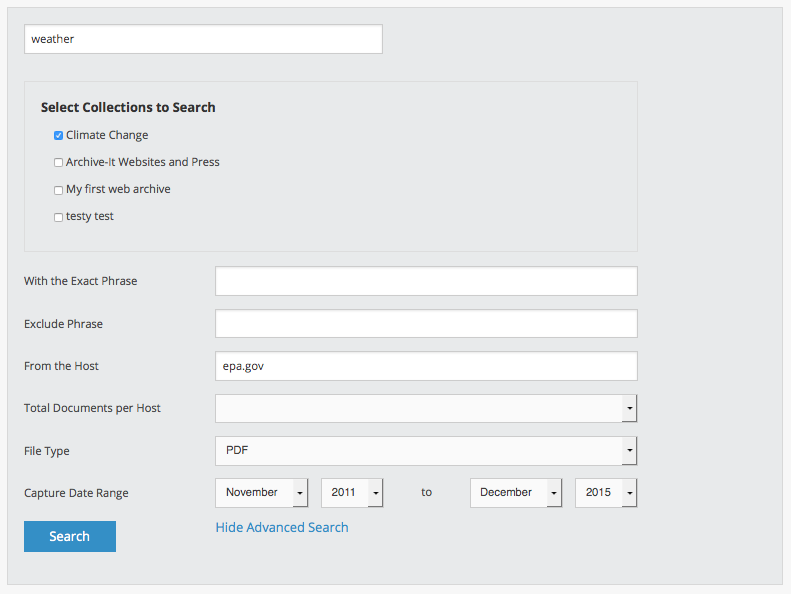 Related content
Browse and search on archive-it.org
How to control access to your web archives