Why modify scope or run a patch crawl from the report
Your crawl's report can help you decide how your crawl might be better scoped to capture more/better content in the future, and to identify select missing elements for immediate inclusion with your completed crawl. In previous releases, these processes were divided between modifying your collection's crawl scope and running patch crawls from Wayback QA in disparate sections of our web application. Since the release of the 5.0 version of our web application, however, you may do both directly from your reports.
How to do it
Modify scope 
You may edit scoping rules for specific hosts individually or in batch from your crawl's Hosts report. Your changes will apply to your next crawl.  
Individual host
Your may add or edit the following rules for hosts on an individual host-by-host basis:
Block/Unblock a host
Create/Modify a document limit
Ignore/Obey robots.txt
Block URLs if...
Existing rules in place for the given host will also be displayed.
Begin by selecting your host from the list by checking the box next to it, then click the "Edit Rules" button:
To add or edit rules:
Select the desired rule from the drop down menu
Toggle the blue slider to turn the rule on/off
Add Rule
Commit Changes
Multiple hosts 
Editing host level scoping rules for multiple hosts at the same time is also possible. This includes the ability to create or edit the following rules:
Block/unblock a host 
Create/Modify a document limit 
Ignore/Obey robots.txt   
Check the boxes next to multiple hosts and click the "Edit Rules" button to toggle rules applied to all selected hosts: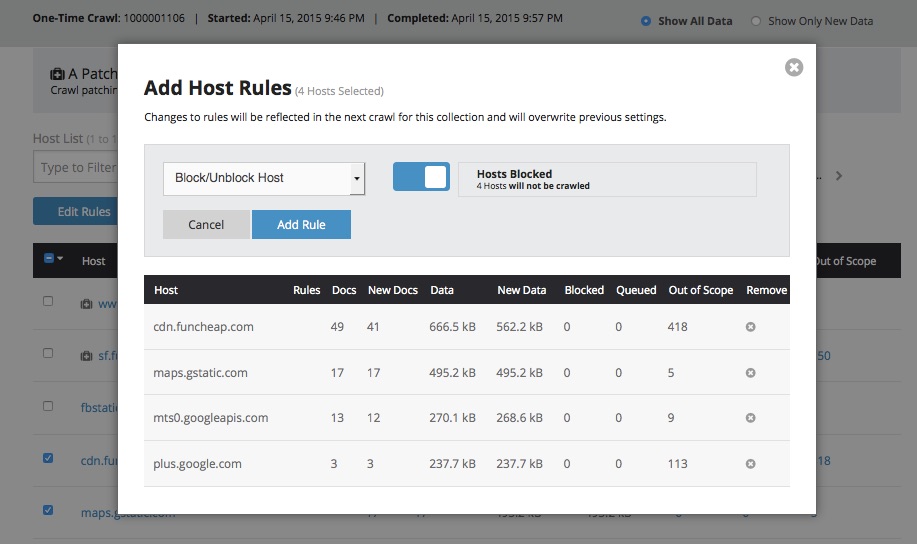 Patch Crawl Blocked URLs 
You may also patch crawl any URLs blocked by robots.txt files directly from the Hosts report of production and saved test crawls. It is not possible to patch crawl unsaved test crawls.
1. Select the hosts and click the "Run Patch Crawl" button
2. Check the "Ignore Robots.txt" check box (if this feature is not enabled for your account, please request it by
submitting a Support ticket
) and click the "Run Crawl" button:
After your patch crawl has run, you will see a medical tool box icon display for any hosts that have been patched: