Access - New Features
Search by Metadata
In addition to the full-text search of your archived content, you are now able to search across the metadata (at the collection, seed, and document level) that has been entered for your collection. Metadata search will happen automatically when you enter a search term in the basic or advanced search interface. Search results from catalog metadata will be displayed above the full text results on the search page.

Click the "Show" Button to expand and view all Metadata Results.

Advanced Search - Filter by Date Range
This new Advanced Search field allows you to narrow down your search results by filtering the results to show only those  captured in a specified date range.  The first two drop down menus let you specify the month and year of the earliest results you would like displayed.  The second two drop down menus let you specify the month and year of the latest results you would like displayed.
To view all results after a specific month/year, leave the second set of drop downs blank. 
To view all results before a specific month/year, leave the first set of drop downs blank.
To view results from just one specific month/year, select the same values for both sets of drop downs.
Advanced Search - Search Multiple Collections
This feature allows you to select multiple collections to search across within a specific institution. To access this feature, click on the "Advanced Search" link and check the checkbox to the left of any collections you would like to search.

(BETA) Linked Videos Page - Improved Access to Video Content
This release includes our first stage of development to provide improved access to video content.  As you may know, some archived video content can not be directly replayed on the archived page it is embedded in. There will be improvements to this functionality in up coming releases.  As with anything in the Archive-It service we welcome feedback to help us further improve this feature.
There are two parts to the Linked Videos Page:
Wayback Banner 'Videos' link - Pages that have embedded video content on them should now have a link in the yellow Wayback banner that says 'Videos'.  If you would like to view embedded video content on this page, click this link, which will take you to the Linked Videos page.  Currently not all pages will embedded video content have this link showing up.  This is one of the areas we will be improving on in the coming months.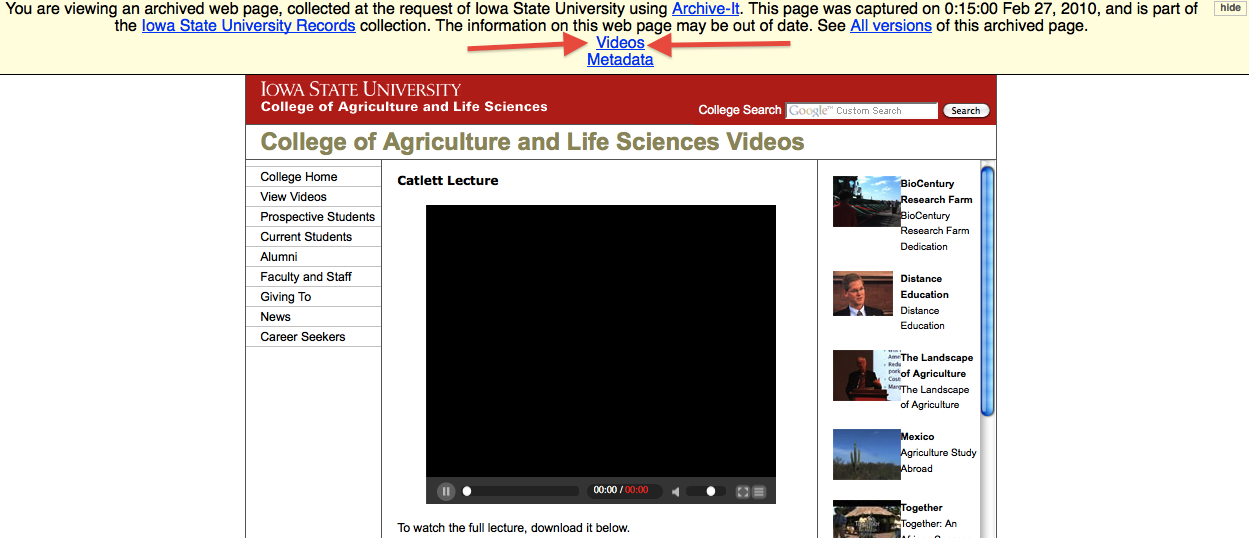 Linked Videos Page - This page gives a listing of all the embedded videos found on the page you just came from. Click 'Watch Video' to view the video you are interested in watching.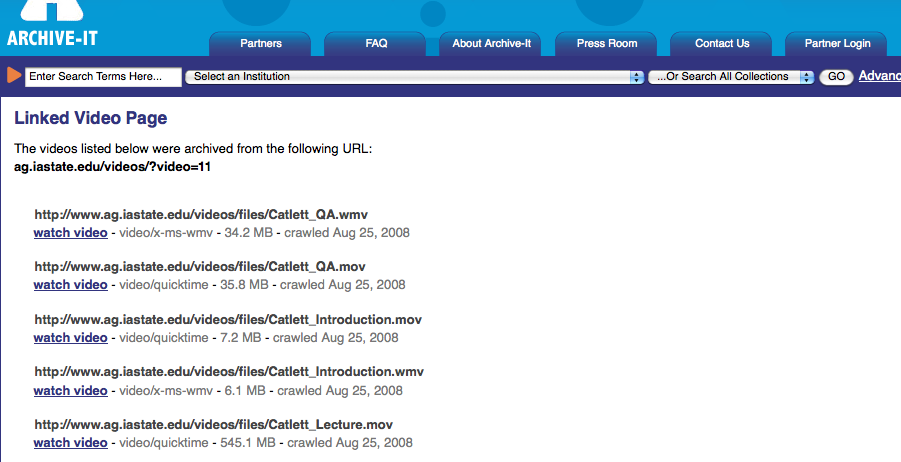 Reporting - New Feature
URL Report
The Hosts Reports for each crawl now include a full list of the urls that were archived in your crawl so you will know exactly what you archived!
Crawls run since October 1, 2010 will have links to lists of "URLs" and "New URLs" that were captured for those crawls. Simply click on the numbered links in those columns of the Hosts Report, and you can view the exact URLs that were captured for each host.
Collection/Seed Management - New Features
Grab Title for Seed Metadata
This new feature will allow you to 'grab' title metadata for your seed urls to be added to your Archive-It seed metadata. These titles are scraped from the <title> tag of the archived version of the page, if available. If the seed has not yet been archived, the title is scraped from the live version of the URL.
You can utilize this feature for individual seeds by clicking the 'add' or 'edit' metadata link for a seed. From the metadata page, click the "Grab Title" button next to the 'Title' field. This will automatically populate the field with the title from that seed url.
You can also grab title metadata for multiple seeds using the "Bulk Edit" function. From the Seed Management area,  select the seeds you would like to grab titles for and click the "Bulk Edit" button on the Seed Management screen. Then select the 'Grab Page Titles' option and click next. Depending on how many seeds you are editing, this may take a few seconds or even a minute. You will be able to review the scraped titles on the next screen and make edits if necessary before adding the titles to your seeds.
Please Note: Using the Grab Title feature will override any existing title metadata that has been entered for your seeds.
Scope-It Updates
We have enhanced and re configured the Scope-It tool to further automate it and integrate it with the rest of the application, as well as to allow for more detailed scoping options.  You can find out more about the updated Scope-It here.  In general the most important new functionality is:
Users will now have all the valuable information from the Host Report (including the brand new URL report!) at your fingertips to help with your scoping decisions.
Instead of just being able to block hosts completely, users can now also put more specific host constraint rules in place, such as putting document limits or blocking specific types of urls. 
Scope-It can be used on any completed crawl at any time.  Previously you needed to specifically import the crawls you were interested in.
Please be aware that while we added a lot of functionality to Scope-It, we did remove the previous ability to view the number of file-types archived from each host.  Based on our surveys and conversations with partners, we determined this was not valuable information.  We hope that the additional functionality now provided will make up for this.
Delete Seeds
Partners are now able to "delete" seeds so that they are no longer listed on the public site or within the web application. Deleting a seed does not delete any archived content, which will still be available via search.

To delete a seed, go to the seed management page for the collection the seed is a part of and select the checkbox to the left of the seed(s) you would like to delete. Then click the "Delete" button at the top right of the screen.
Improvements to Site Group Feature
We have made some improvements to the "Grouping Seed Urls" feature we introduced in the 3.5 release. You are now able to edit group names or delete groups entirely, as well as create new groups from within the "Bulk Edit" function.
More information about data and documents captured per collection
If you click on the "Collections" link in the navigation bar, it takes you to an overview screen with additional information about your collections. This information now includes:
Seeds: The total number of seeds in each collection and the number of active seeds in each collection
All Subscription Periods: The amounts of documents and data captured for each collection since the account began.
Current Subscription Period The amounts of documents and data captured for each collection in the current subscription period, with the period start date listed 


Other Changes and Enhancements you May Notice
Bimonthly Crawl Frequency
There is now the option to set crawls to run every two months, with the bimonthly crawl frequency.
Shorter and Longer Durations for One-time Crawls
One and seven day crawl durations are now available for one-time crawls. The default crawl duration for one-time crawls remains three days.
Improved Documentation for Exporting Archive-It Metadata to MARC and MODS
As we heard from our partners this past spring, being able to export metadata from Archive-It and import it into other ILS or catalog systems is very important. In order to facilitate this we have added documentation for exporting Archive-It's Dublin Core Metadata and transforming it to MARC or MODS. We can continue to improve this documentation with your input and additional information about our partners' use cases.
For more information on transforming Archive-It metadata to MARC:https://webarchive.jira.com/wiki/display/ARIH/Exporting+Archive-It+metadata+and+converting+it+to+MARC
For more information on transforming Archive-It metadata to MODS:https://webarchive.jira.com/wiki/display/ARIH/Exporting+Archive-It+metadata+and+converting+it+to+MODS
QuickToggles Firefox Plugin
One of our developers created QuickToggles, a Firefox plugin that is extremely helpful for conducting QA review on archived pages in Wayback. Specifically, the plugin allows you to easily turn proxy mode on or off from within your browser, as well as turn off/on javascript and cookies. The plugin can be downloaded here: https://addons.mozilla.org/en-US/firefox/addon/243984/. For more information on this feature and proxy mode in general, see this wiki page.