Collection Management
Partners who use the "host constraints" feature in the application, will now be able to add a list of hosts to block instead of just adding one host at time.
From the "host constraints" tab under "modify crawl scope," click "bulk add hosts" next to the "enter host" box. Next, paste in your list of hosts. Please be sure that each host is on a separate line. Once pasted, click "add". Your list of hosts should now appear on the host constraint page.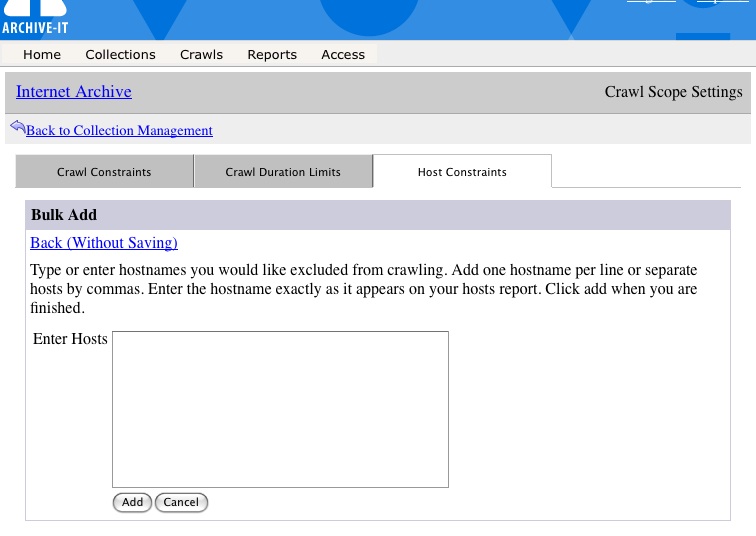 Please note that if you paste in over 500 hosts, these will not display on your host constraint page and the page may fail to load entirely. This issue will be corrected in the next application release planned for February 2009.
Crawls
Some crawl frequencies can now be extended to 5 or 7 days. The default crawl durations remain the same; but if a user wishes to extend a crawl, the following crawl frequencies can be extended:
*Test: can be extended to 5 days (3 days is default)
*Monthly: can be extended to 5 days (3 days is default)
*Quarterly: can be extended to 5 days (3 days is default)
*One-Time: can be extended to 5 days (3 days is default)
*Semiannual: can be extended to 7 days (5 days is default)
*Annual: can be extended to 7 days (5 days is default)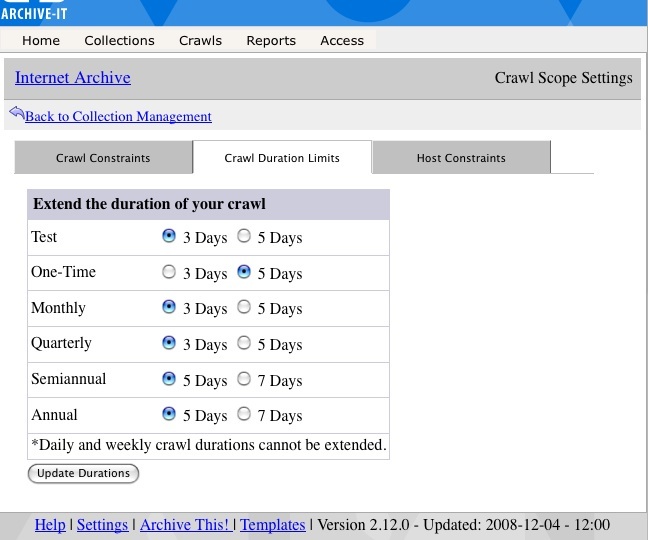 To adjust the duration of a crawl, select the new "crawl duration" available under "modify crawl scope." Click the duration option next to the frequency you would like to extend then click "update duration". Changes in settings will take affect on your next scheduled crawl (if you change the crawl duration of a frequency currently running, that crawl will not be affected). Crawl duration settings can be set differently for each collection.
An Important Note About Extending Crawl Length
Before you extend the length of your crawl, we advise analyzing the host report from previous crawls to determine if extending the crawl is appropriate. Review the "queued" information in the hosts report to see what hosts have not been crawled completely to help you determine if there is content in the queue that you would like to archive. There is more information on analyzing your hosts report on the Archive-It help wiki: http://webteam.archive.org/confluence/display/ARIH/Hosts+Report
Improved Video Access
Partners can now view archived videos much more easily as part of their collections. Re-playing archived videos is an ongoing part of our software development, and this improved access provides partners enhanced access to archived media. (www.archive-it.org).
On each collection page (ex: http://www.archive-it.org/collections/194), you will now find a link displaying the number of videos crawled.

Click the number of videos to view all videos in a collection. You will see a list of video file links grouped by the seed from which they were discovered. Included in the information for each video you will see a "watch" or "open" link for viewing the file, the url on which the video was embedded, size of the file and date of capture.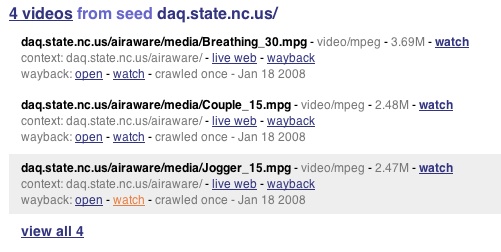 This system is a work in progress. Some video file formats will not play properly using the "watch" link and will display error messages instead. If this is the case, you can right click on the "open" link to download the video and play it using a different video player. 
Please send feedback on this feature as you and your patrons start to use it.
OpenSearch Access to Archive-It Wayback Machine
Using OpenSearch protocols via RSS, partners will be able to monitor new crawl dates as they appear in the Wayback Machine. An RSS link will appear on the Wayback Machine calendar view pages, ex:http://wayback.archive-it.org/194/*/http://statehealthplan.state.nc.us/ Partners will be able to add the RSS link to an RSS feed reader. When new dates are added to the calendar page that you are monitoring, an update will be sent to your RSS feed reader.