Collection Management
-There is now a third state for your collections and a third tab in the UI.  In addition to enabled and disabled, your collections can be dormant.  The purpose of this state is mainly housekeeping in nature.  Collections you think will never be crawled again can be put into dormant tab, leaving more UI space for collections you are actively working with (whether they be disabled or enabled).  Dormant collections are still publicly accessible at www.archive-it.org. 
To make a collection dormant, click the "dormant" link in the upper right corner of the seed list view.  You can also make a collection dormant from the collection listings under collections → view collections. 


                                      
Dormant collections can be found on a labeled tab with your enabled and disabled collections under collections → view collections.  You can re-enable dormant collections just as you would those that are disabled. 
-A new frequency option allows you to schedule annual crawls for seeds and collections.
-The collection number and crawl UID (start date/time) are now listed on the first line of reports when they are imported into Excel. For example, Collection: 62 UID:20070201005509335 would appear at the top of a crawl for collection number 62 beginning on Feb. 1, 2007 at 00:55:09 and 335 milliseconds GMT.
-Two internal changes have been made to prevent accidental seed url changes, and duplicate seeds in a collection:
•       On the edit seed page (click the edit link next to seeds).  If you try to change the seed url itself you will be given a warning that you are trying to change the seed url.  If you are indeed changing your seed url, just confirm the change (by clicking okay) before making the change. 
•       If you try to add a duplicate seed while using the "add seeds" link, you will be given a warning that the seed you are trying to add already exists.  You can then either remove the seed you are trying to add or override the warning.  If you do override the warning, you can only add the duplicate seed at a different frequency than already exists in your collection.
-The XML feed will now create metadata feeds from disabled as well as enabled collections.
-Both the bulk and single seed editing tools will now accept accented roman (specifically Spanish and French language) characters in your metadata.  
Administration
-On the "home" view of the application, subscribers will be able to see how many documents they have archived total (since the very start of first subscription cycle).  Additionally there is now a "partner since" tag at the top of the page showing how long your institution has been an Archive-It partner.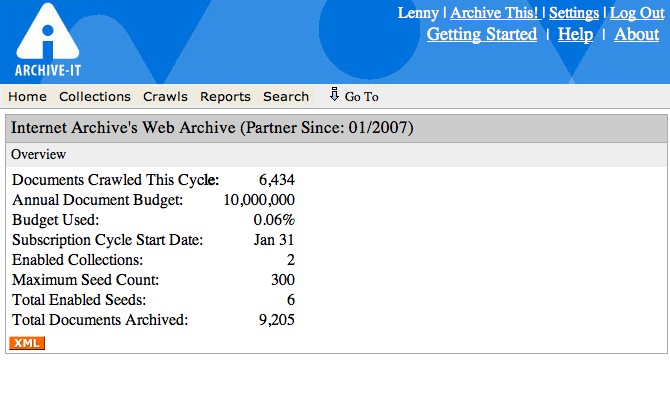 Crawl Speed Adjustment
Starting with this release, we have adjusted the Heritrix crawl speed settings.  The speed of your crawl is determined on how quickly the server you want to crawl responds to requests from Heritrix.   The new adjustment will be more reactive to individual server response time (although this change will not effect crawl speed on extremely slowly responding servers).  This means that your crawls could possibly bring in more documents if the servers responds quickly to Heritrix requests.   This change does not effect the scope of any Archive-It crawls.