Reach out directly to our Web Archivists if you have questions about your Archive-It account, collections, crawls, or archives that cannot be answered by our User Guide or FAQs.
Using our support system, you can submit a ticket and receive a response generally within four (4) business days for all non-urgent issues. This page explains how to create and best manage your Archive-It support tickets.

Note: If you send an email directly to a member of our team, and your question requires further investigation or we aren't able to get back to you right away, we may create a ticket for you in our system.
On this page:
Finding information in the help center
Search will yield results from both the knowledge base and the community at the same time. Help center articles written by Archive-It staff appear under the heading "Knowledge base" and contributions from forum participants appear under the heading "Community."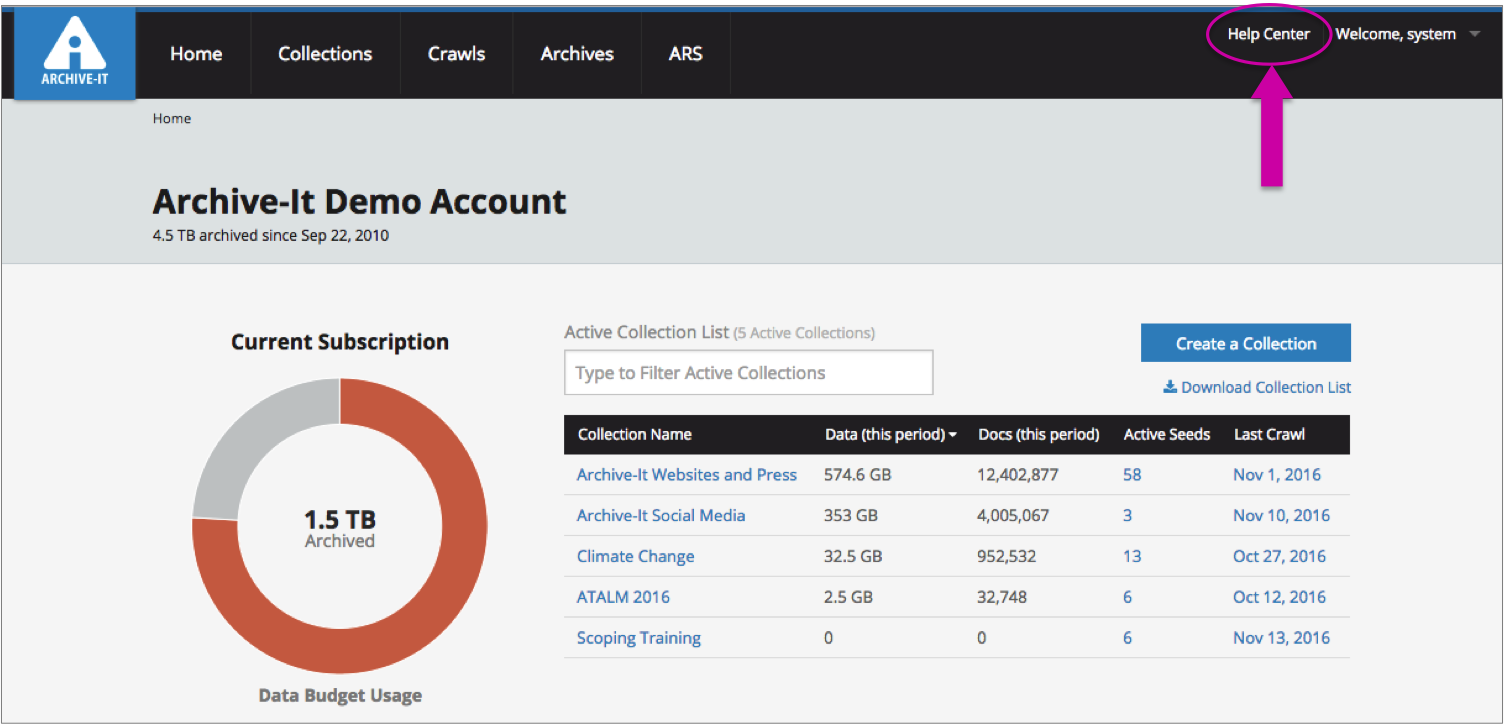 Participating in the Community
We encourage all partners to participate in the community by making a post or a comment to ask questions, provide answers, share ideas and resources.
You can vote on others' contributions. You can view all your own contributions in one place. You can also track issues by following discussion topics or specific questions. You'll be notified by email when somebody creates a post or adds a response.
To Make a Community Post
Click New post in the top-right side of any community page.
Enter a Title and Details, which might be anything, including a question, feature request, or tip.
Select a Topic for the post from the drop-down menu, if you want to change the selected topic.
Click Submit.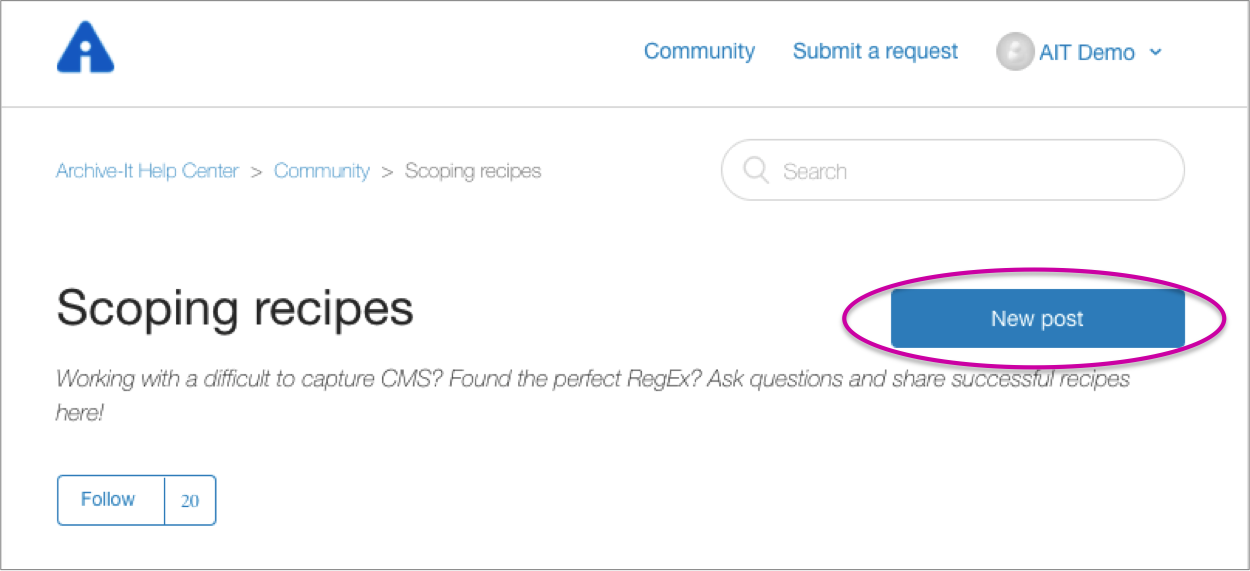 To view all your contributions to the community
Click your profile icon on the upper-right side of any page, and then click My activities.
Click Contributions.
Click any link to go to your contribution.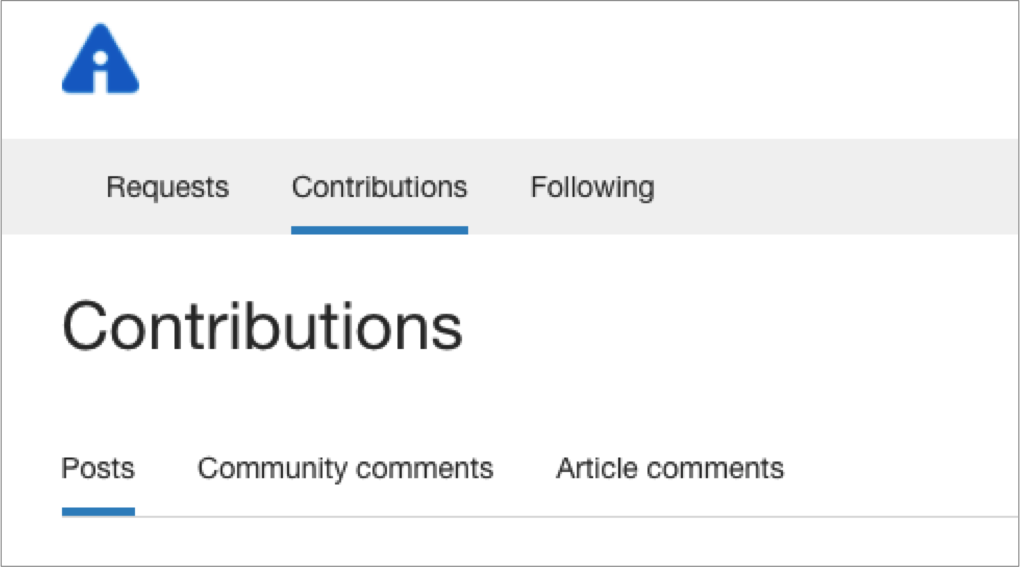 To follow a discussion topic or post
Click the topic or post.
Click the Follow button below the topic title or question.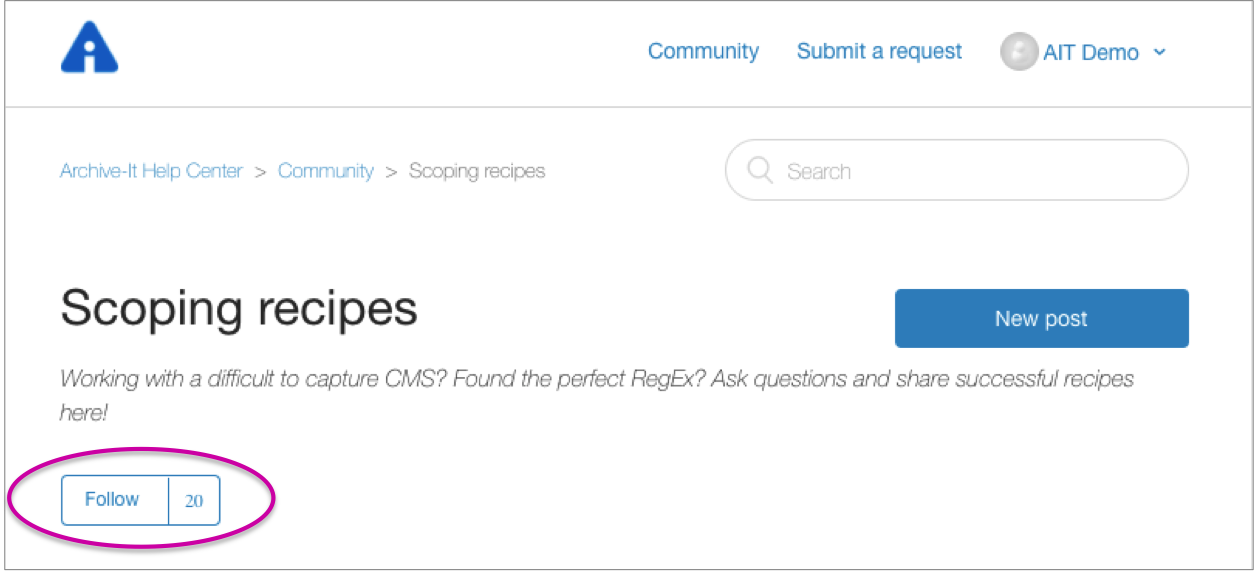 To manage the community items you're following
Click your profile icon on the upper-right side of any page, and then click My activities.
Click Following.
Make any desired changes to the community items you're following.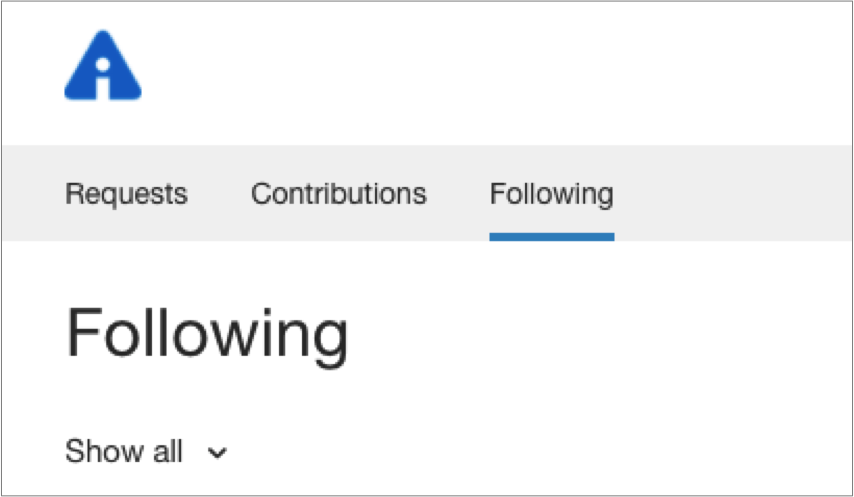 Creating a support ticket
Via the Help Center
Support tickets are a way to directly contact the Web Archivists. We respond to tickets within four business days, or sooner if possible, however more complex capture and replay issues may take some time for our engineers to resolve. Please note that when escalating support tickets to our engineers issues related to capture are generally prioritized over issues related to replay. When working in the Archive-It web application, you can access our support ticket system by clicking on the Help Center link at the top of every page: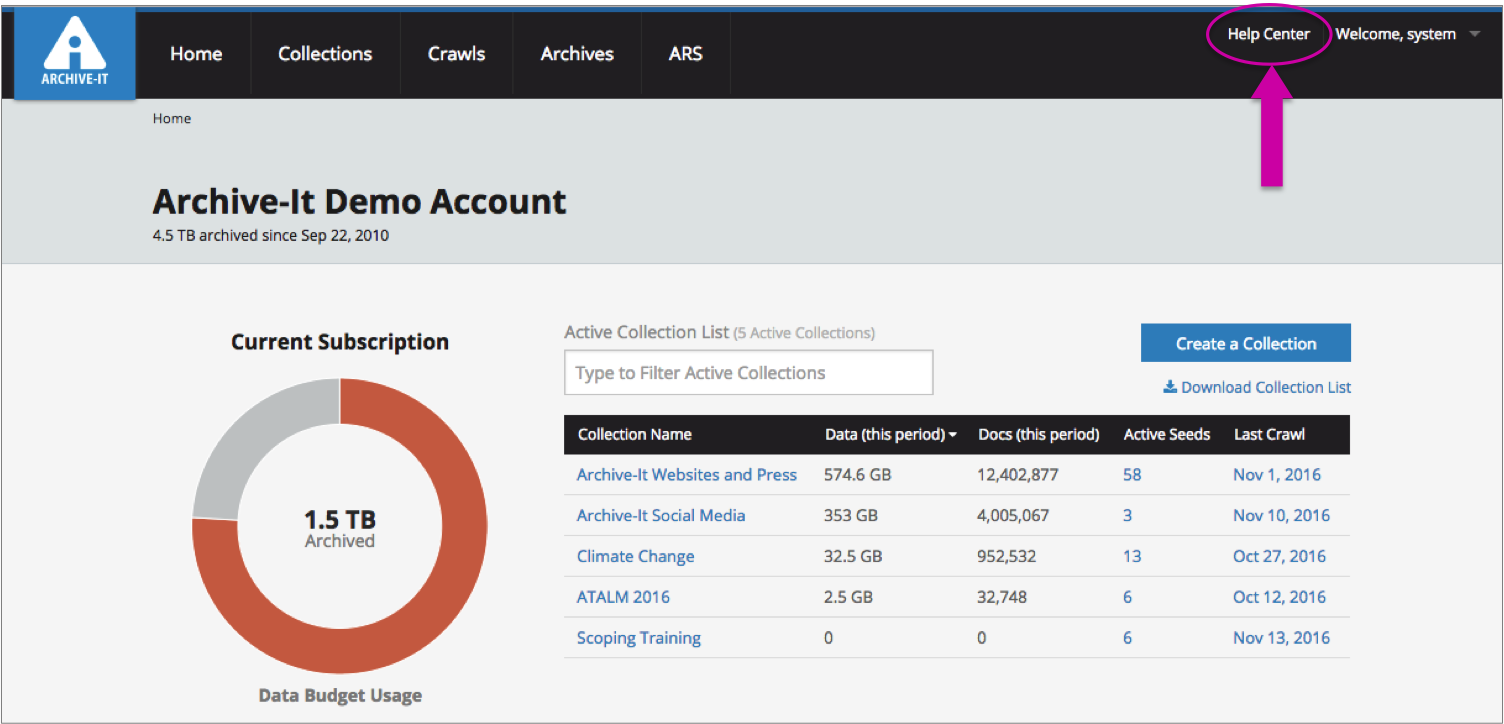 The Help Center link will direct you to the front page for all of our help documentation and resources, which always includes a quick link to this page and our support ticket system.
Whenever you cannot find the answer to your question in our User Guide, or FAQs follow the link above directly into our support ticket system where you can Submit a request: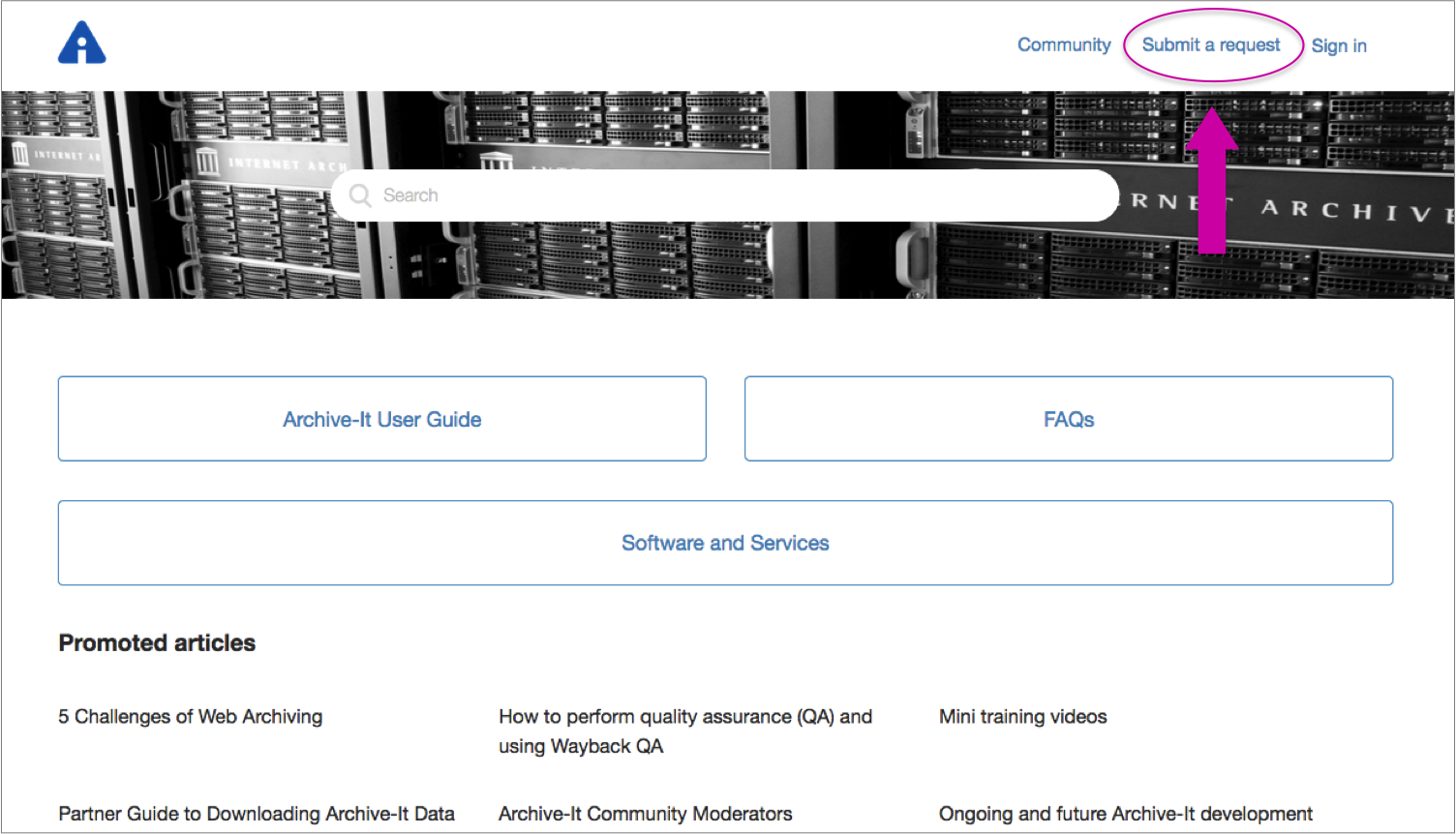 The request form page will open and prompt you to include details pertinent to your support ticket, including the following information:
Field Name

Data to Enter

Required?

Subject

A sentence or phrase describing the issue.

Yes

Description

A detailed description of the issue. The description should include the type of Web browser you are using and the operating system you are running.

Any steps necessary to reproduce errors or problems with the web application or Wayback interface should also be listed.

Yes

Wayback URL

If your issue pertains to a problem with the replay of an archived site or sites in Wayback, please provide us with a link so that we may review it.

No

Crawl Report URL

If your issue relates to a completed crawl, please include the URL of that crawl's report.

We cannot diagnose or respond to crawl-specific questions without the information contained in these reports, so including the crawl report URL is always a good idea!

No

Attachments

Attach any file(s) relevant to the ticket.

For instance, screenshots showing error messages or other behaviors can be very useful to us. Including a screenshot helps ensure your ticket gets processed quickly!

No
Complete your ticket by clicking the Submit button, and that's it – your ticket has been entered into our system! An email verifying that your ticket has indeed been sent to us will be sent to your email address.
Via the Help widget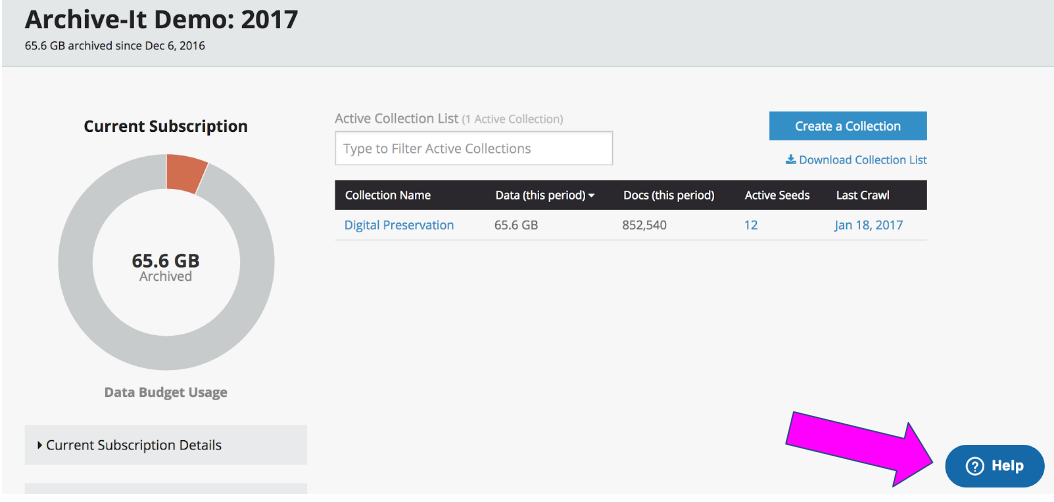 After clicking the Help button in the bottom right corner, and searching a word or phrase, a 'Contact Us' button will appear: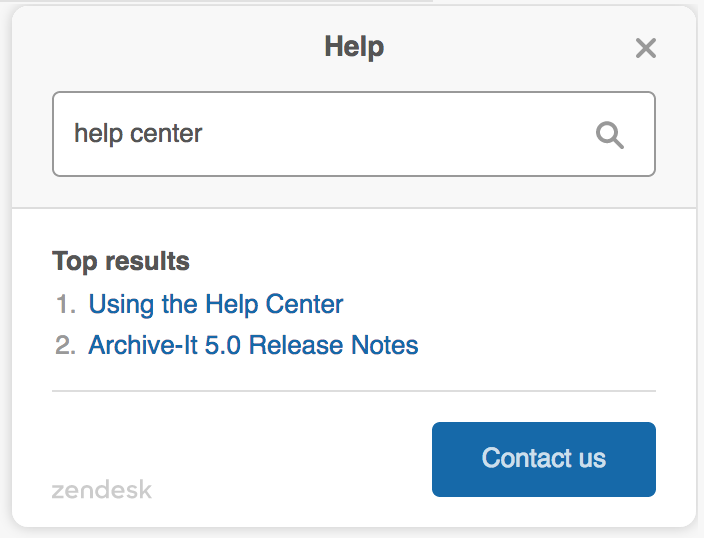 Select 'Contact Us' to fill out the form and click save to submit a ticket: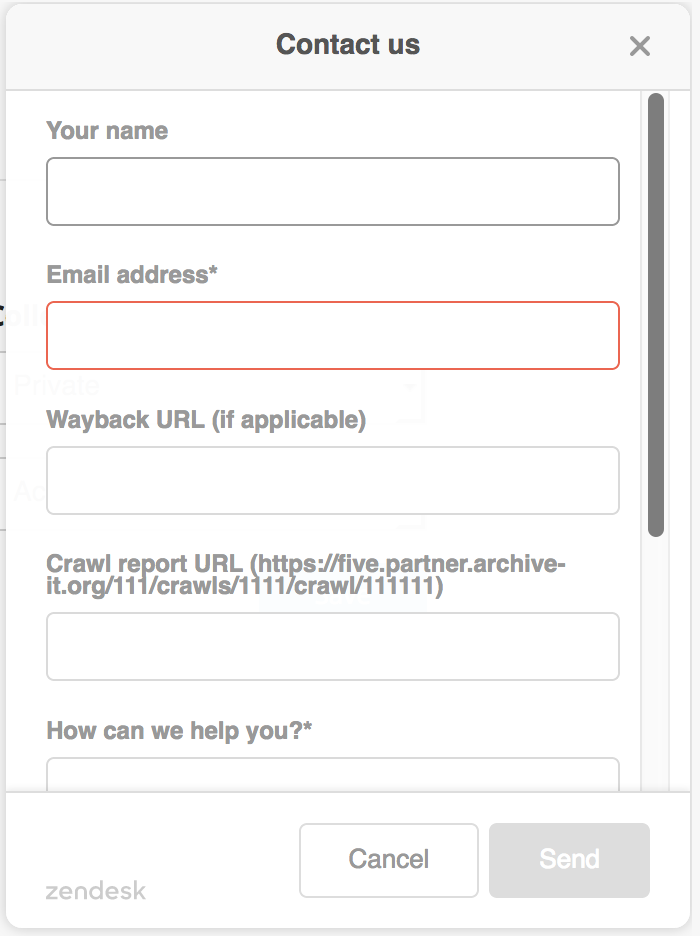 Receiving responses and updating your tickets via email
When the Archive-It support team replies (adds any comments) to any of your tickets, the reply will be sent to you directly via email. From that point on, you can simply reply to this email and your ticket will be updated with a new comment. As soon as you do, we will receive a notification that you have responded via email and will start processing the new information.
Updating tickets through the support website
If you prefer it to email, you may also update your ticket with additional information directly via the Archive-It support website, the same place where all new tickets begin.
To do so, check the initial email that was sent to you when you created your ticket. Within that email, click on the help ticket number link circled below: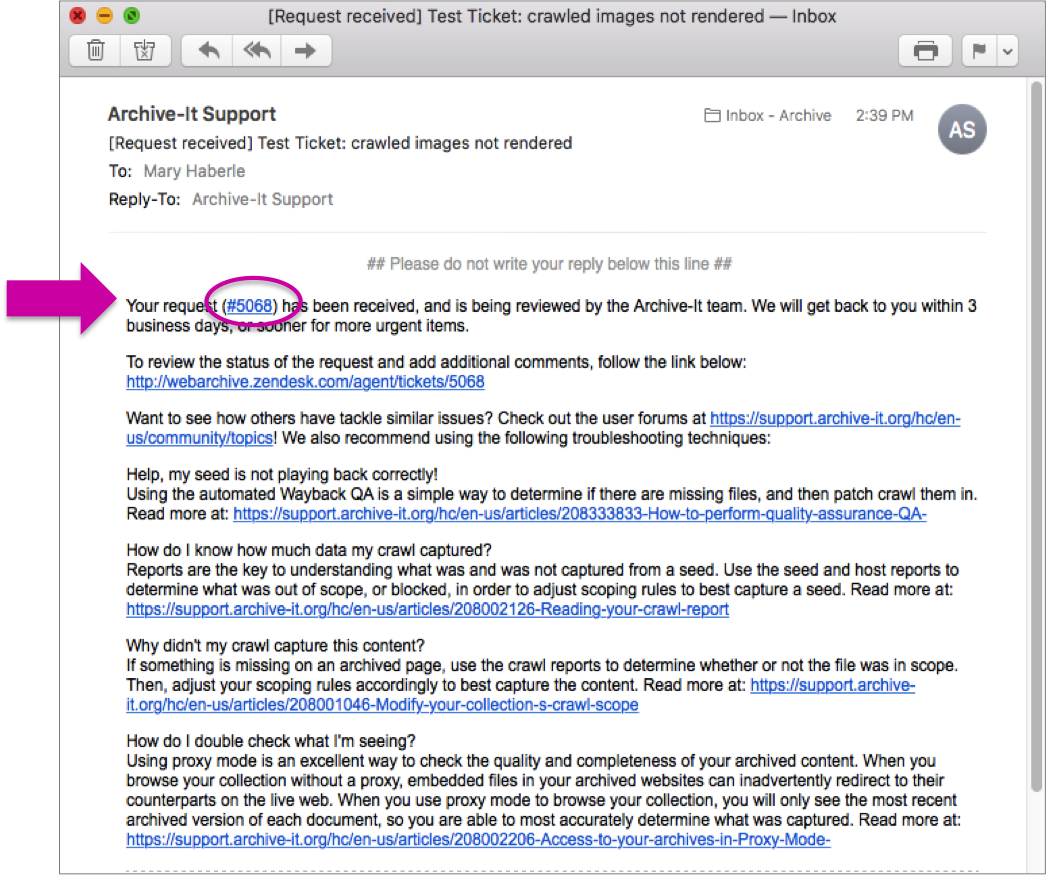 If you are not already logged into your Archive-It account, you will be prompted to enter your Archive-It account login information. Once you've logged in, you will see the details of the specific ticket whose number you clicked on in your email. Enter a comment at the bottom of the page and click Submit to update it.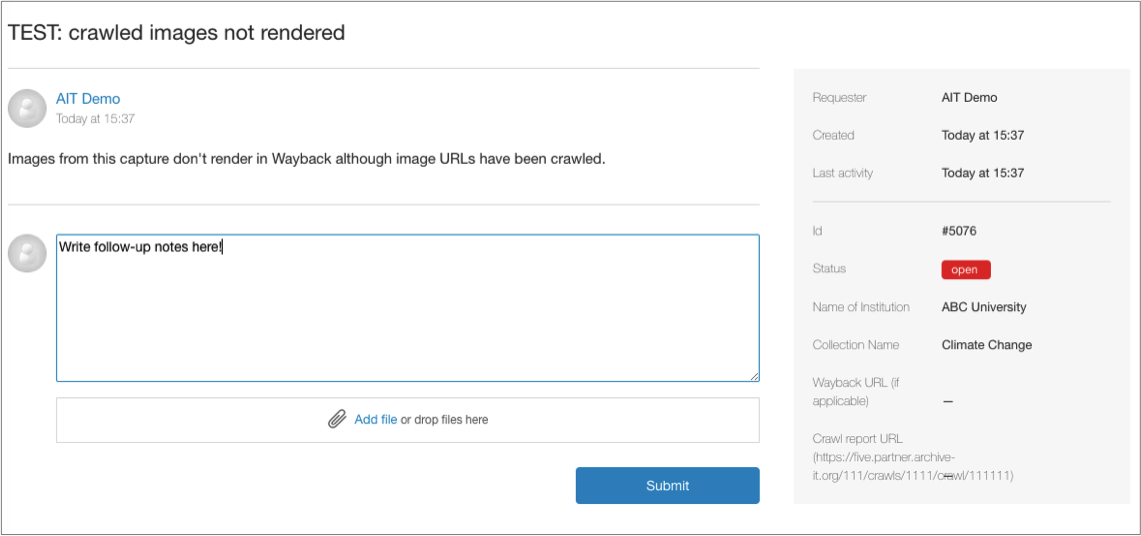 You can also access all your tickets by logging into the help center at http://support.archive-it.org, clicking on your user icon, and selecting My activities from the drop-down menu.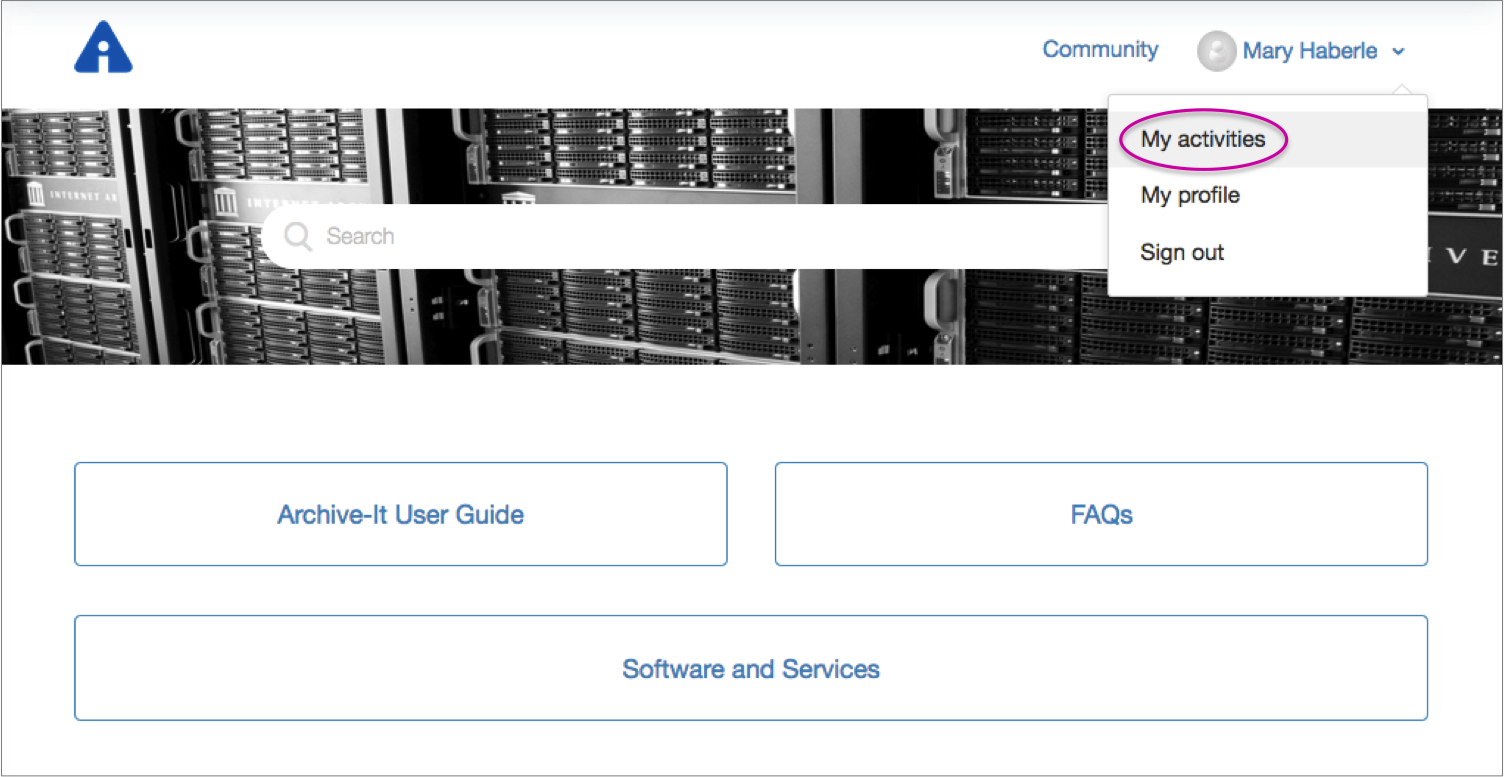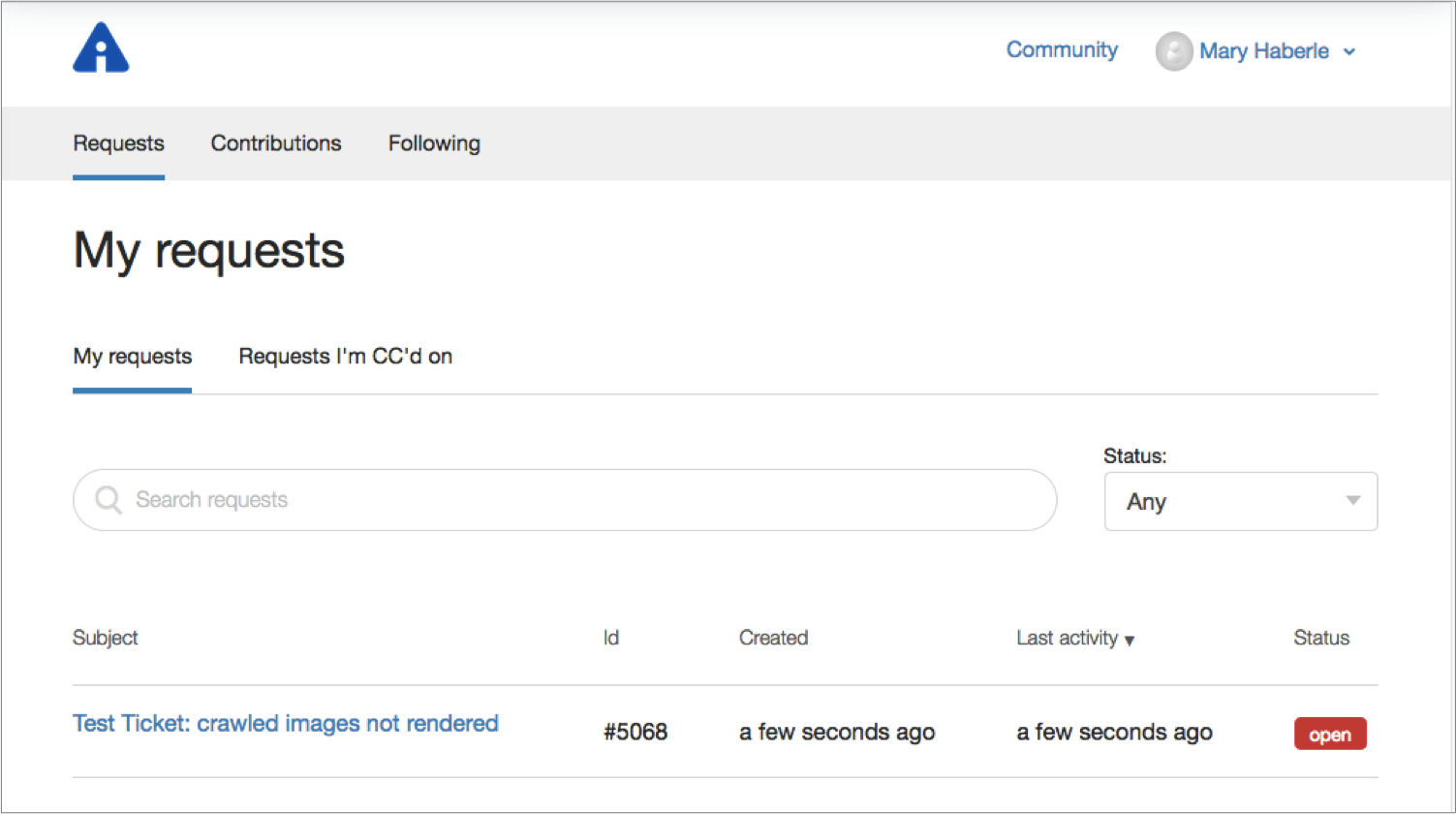 Once logged in, you may view your list of tickets and click on any one that you wish to edit. Once the ticket details display, go to the bottom of the page and enter a new comment. Click Submit and your comment will be posted: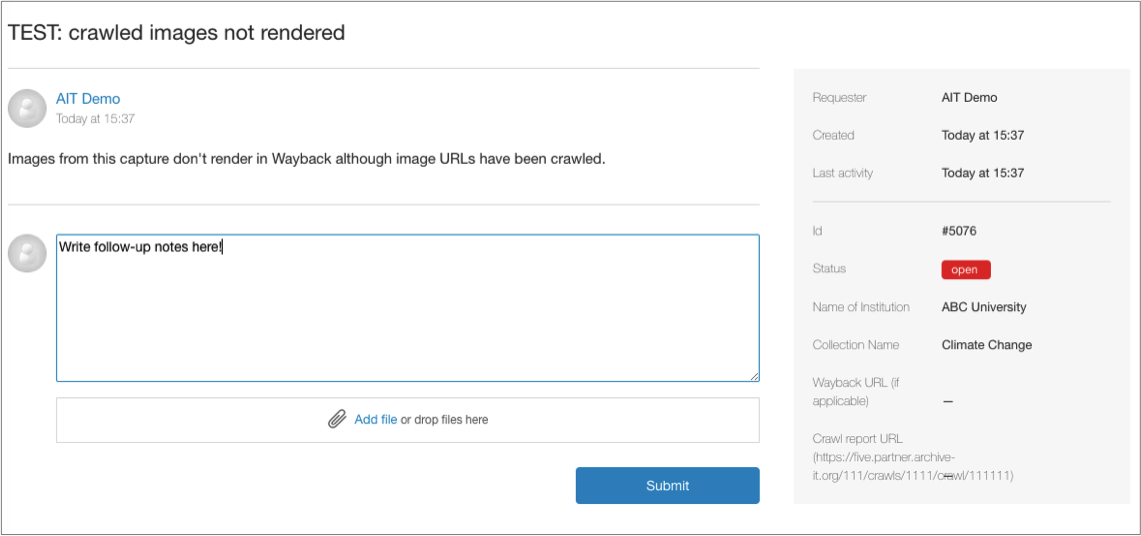 Our team will immediately receive a notification that you have entered a new comment. You will also receive an email verifying that your comment has been submitted.
Review and share support tickets across your team
Our support system's website features additional functionality for teams working together with the web application at a single institution. If you would like us to enable the ability for all of the users associated with your account to view each others support tickets, please ask us in the form of a brand new ticket!
Editing your help center profile
Interested in changing how your name appears in the Help Center, or creating an avatar?
Click your profile icon on the upper-right side of any page and select My profile to display your profile information.
Click on the Edit profile button to open a dialog box.
After making your desired changes, click the Close button to save them.