Our live chat support service is currently in its pilot phase and will be available starting January 10 through February 11, 2022. More information on this service, including extended hours, will be announced widely following the pilot.
---
Live chat support is now accessible through the partner application Help Widget by logging into your existing Archive-It account here. Start by entering a query into the widget to activate the live chat option. Please note that this service is not supported for Archive-It Basic or Archive-It Sponsored level subscriptions unless you are reporting a system issue.
On this page:
Before you initiate a live chat, please consider these recommendations:
✅ Have you checked the

System Status page

for updates on any service-wide issues?
✅ If the problem is related to your Wayback links not working:
Have 24 hours or more passed since the crawl completed?

It takes up to 24 hours for Wayback links to generate.
Are you trying to access Wayback links for a test crawl?

Wayback links for test crawls can only be accessed via the Seeds tab of the crawl report.
Chat hours (Pacific time)
| | |
| --- | --- |
| Day | Live chat operating hours |
| Monday | Unavailable |
| Tuesday | 9AM - 12PM |
| Wednesday | 9AM - 12PM |
| Thursday | 9AM - 12PM |
| Friday | Unavailable |
How to access chat support
Chat can be accessed via the Help Widget. The widget can be accessed through the partner application by logging into your existing Archive-It account here.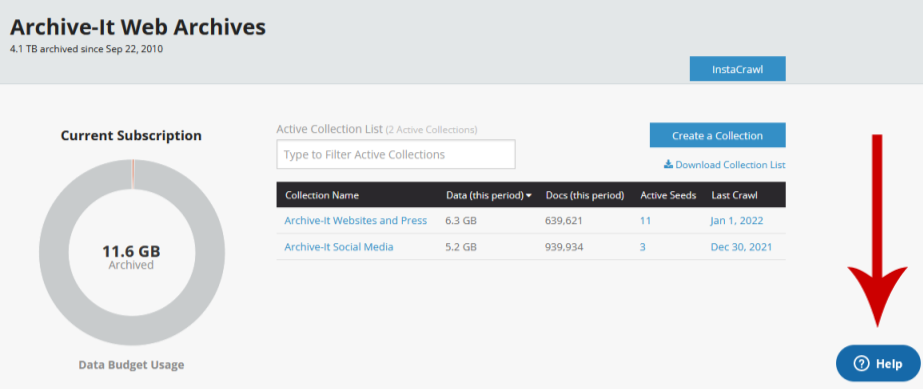 After clicking the Help button in the bottom right corner and searching a word or phrase, a "Live chat" button will appear in the bottom right corner.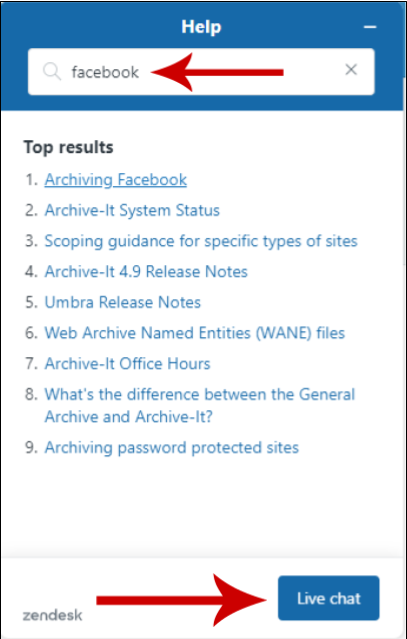 A dialog box will appear where you can type your name, email, and question to initiate a live chat with one of our team.
If we are not available for live chat, a "Contact Us" button will appear where you can fill out a form to submit a support ticket instead.
Other ways to contact us
Archive-It User Support
For more complex support issues that may require deeper troubleshooting, please submit a support ticket using our Support Request form.
Administrative Support
For administrative support requests (account renewals, data increases etc.) please use our Administrative Support form.