On this page:
Overview
Please note it can take 15-20 minutes for any new metadata or changes to metadata to appear on the public site. 
You can add metadata at any of the following levels:

Collection
Metadata for each collection is managed under the collection's "Metadata" tab. More information on managing your collection's metadata can be found here: Add and Edit Collection Information
Seed
Individual seed metadata can be added or edited from your collection's Seeds tab: More information on managing your seed metadata can be found here: Add and Edit Seed Level Metadata
Document
You can also manage metadata associated with any specific document (anything with a unique URL). More information on document level metadata can be found here: How to add and edit metadata at the document level.
Standards
The Dublin Core Metadata Set, version 1.1 is the format used in the Archive-It application, and is a widely used format for describing and cataloging digital materials. At all cataloging levels described above, we provide the 15 standard Dublin Core elements.
Adding metadata
Metadata for all three different levels (collection, seed, and document) is added using a similar interface: just type the value that you want to add into the text box next to the relevant field name and click "Add". Fields are repeatable, meaning that you can add as many values as you would like for each field. Please note it can take 15-20 minutes for any new metadata or changes to metadata to appear on the public site.

Once you have committed your metadata by clicking the Add button, it will appear as it does in the image below, with a blue trash can icon to its right. To remove a value, click on the trash can icon.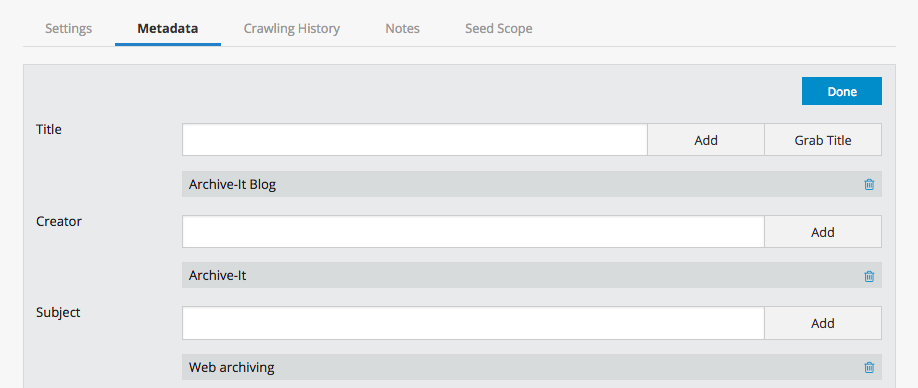 Custom metadata
Customized metadata fields can be added at the collection, seed, or document level. You will find an area for adding customized metadata below the standard Dublin Core Element set.

Enter the title of your custom metadata field into the box on the left, titled "Field Name," and enter the corresponding metadata into the box on the right titled "Value". Click the "Add Custom Field" button to add the field. Note that these fields can be removed, but not edited.
Upload and download metadata in bulk
You can use a spreadsheet to make bulk changes to metadata at the seed or document level by using an ODS file. If your metadata contains diacritics, ligatures, and/or non-Roman alphabets we recommend that you use the free open source LibreOffice Calc application to move between file formats (.txt, .csv) and generate an .ods file for upload that will preserve these characters.
For more information on this feature see: How to upload and download metadata.
Access
Metadata will be displayed and hyperlinked for browsing on public collection pages hosted at Archive-It.org. Please bear in mind that when you create a title and description for your collections and seeds, that these can be browsed and used by a public audience. This means that the titles and descriptions should be written with public display in mind. (You'll want your audience to quickly and accurately ascertain the emphasis of your collection). 
Private metadata
It is possible define specific metadata fields as private so that they will not display on the public site. If you are the administrator of your account, you can do this in the Administration section of the web application, under the Account Settings tab. List the fields you would like to define as private.