Once you have added seeds to your collection, you may manage their settings, metadata, scope, and more, either individually or in bulk, from the collection's "Seeds" tab:
On this page:
How to manage an individual seed
Click on the hyperlinked URL for any individual seed in the Seed URL column in order to see its management interface: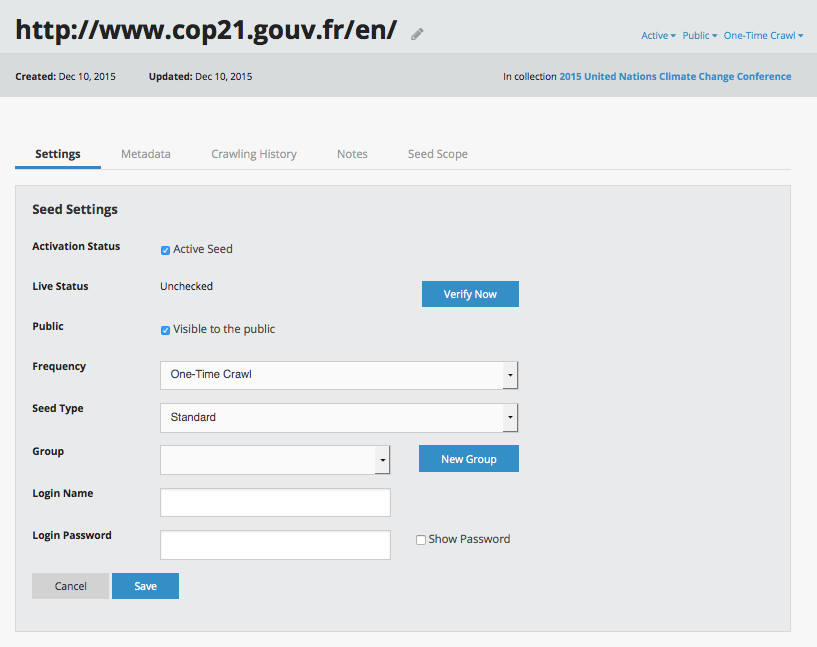 You can edit your seed URL by clicking on the pencil icon to the right of the seed URL, making any changes, and then clicking the check mark that appears below the URL.
Navigate among the tabs across the top of this space to manage the following features:
Settings: Activate or deactivate the seed for regular crawling, change its public access options, its crawl frequency, seed type, group, and/or login username/password information.
Metadata: Add metadata for this specific seed using the Dublin Core element set and/or custom fields.
Crawling History: View a list of all crawls that you have run that include this seed.
Notes: Record internal notes pertaining to this seed. (Use the search box at the top of the Seeds tab to filter seeds by these notes as well as other settings).
Seed Scope: Refine the scope of your crawls by telling our crawler what to archive (and what not to archive) by setting custom rules at the seed level. 
How to manage seeds in bulk
You may manage the settings and functions of several seeds at once by clicking the check boxes next to each: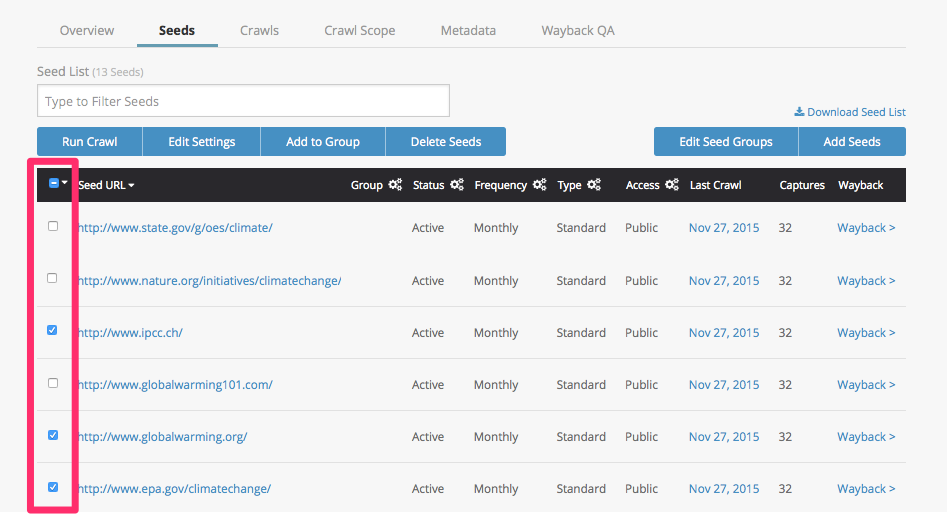 Once you have selected your seeds, you may use the buttons at the top of the list in order to:
How to activate and deactivate seeds
A seed is considered "active" when it is scheduled for crawling. If you no longer want a seed or collection to be scheduled for crawling, you can designate it as "inactive."
By default, all seeds are designated active upon being added to your collection. To deactivate a seed in your collection, click on its hyperlinked URL under the Seeds tab and un-check the check-box next the the phrase "Activation status":

To deactivate multiple seeds in your collection, check the check-boxes next to each under the Seeds tab, click the "Edit Settings" button, and toggle the radio button from "Active" to "Inactive":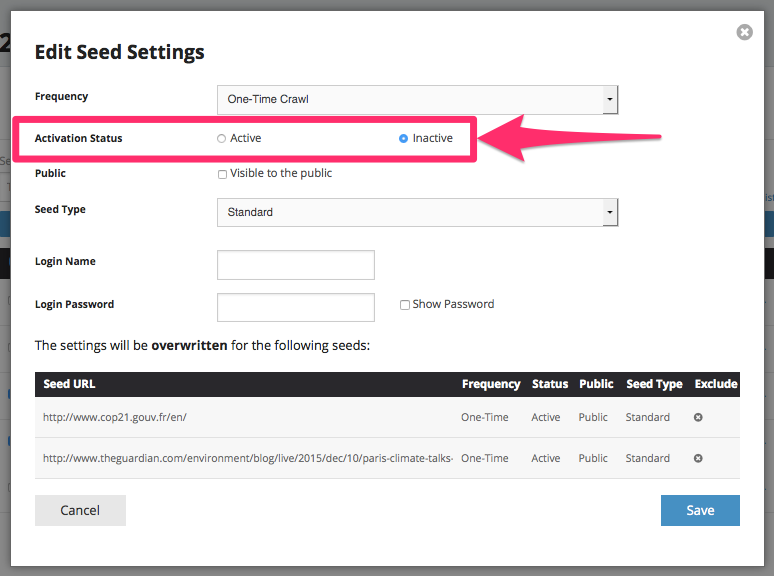 Click the Save button and your seeds will become inactive, meaning that they will not be crawled on a regularly scheduled basis.