Welcome to Archive-It! Archive-It is a platform for you to control your data by curating your own content and running your own crawls, and then describing and sharing that content as you wish. This page is designed to give you an overview of how web archiving works with Archive-It, and is a curated collection of videos and articles from our Help Center. It is highly recommended to work through the trainings on this page before jumping into your Archive-It account. Further information can be found elsewhere in the Help Center, and can be helpful on your web archiving journey, but is not integral to starting out.
Something to keep in mind is that web archiving is not linear, but a process, so you can move through these stages as you need, even repeating some if necessary.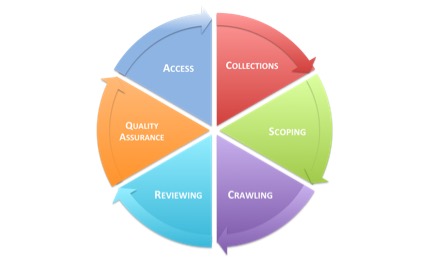 Collections
Scoping - Each Archive-It crawl has a default set of bounds to prevent the crawls from capturing the entire web. There are multiple ways to adjust scope to capture/not capture content.

Some sites have

automatic scoping rules

applied for your convenience.

Pre-crawl Scoping

-

Make sure your seeds are set up correctly before you start your crawls. In this video you'll learn tips for selecting, formatting, and administering your seed URLs before you run a crawl to help capture the data you're looking for.

Scoping guidance for specific types of sites - Some platforms need specific scoping rules for full capture and replay. Learn about our most up to date guidance for archiving popular social media services and other commonly used platforms.



Crawling - Learn about the different ways crawl content. Please note that this section includes important information on how data is added to your account.

Types of crawls - There are different types of crawls to best support the Archive-It workflow. For all of these crawls, it's important to note that only New Data will be added to your account, due to our data deduplication feature.
Crawling technologies

- Archive-It has different crawling technologies that can (and should!) be used to capture different kinds of content

It's important to manage your

data budget as you crawl. Only unsaved test crawls can be deleted; no other kind of crawl can be deleted.



Reviewing & Quality Assurance

Getting the most from your post crawl reports

- So you've run a crawl... now what? This video walks through each report to provide detail on why each post-crawl report is necessary, and the information you can glean from them.

Understanding your Hosts Report

- The Host report is a wealth of information! Find out all of the different ways you can use it to identify

crawler traps

, block hosts, add data limits, run patch crawls, and more.

Quality Assurance - What can you do if your archived websites don't look quite right in Wayback? Following these steps may help you improve the capture and replay of your Wayback pages.



Access
Now that you have an overview of Archive-It, we encourage you to jump in! After you've run some test crawls, you can sign up for Office Hours and a Web Archivist would be happy to chat with you.
And remember- web archiving is a learning experience! As you learn more about the sites that you collect, you can find and share tips here in the User Guide or Community Forum.