Estimated reading and video time: 90 minutes
Welcome to Archive-It! Archive-It is a web archiving service where you can curate your own content and run your own crawls, then describe and share that content as you wish. This guide is a curated collection of videos and articles from our Help Center that are most important to utilizing Archive-It; further information can be found elsewhere, but is not integral to starting out. It is highly recommended to work through the information on this page before jumping into your Archive-It account.
On this page: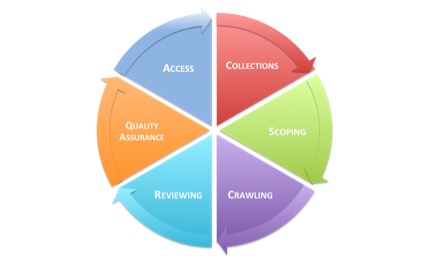 Archive-It is primarily organized around collections. After completing the readings in this section, you'll understand how to build collections.

After completing the readings in this section, you'll understand the multiple ways to adjust scope to capture/not capture content, and which approach is best to use when.

After completing the readings in this section, you'll understand the different ways to crawl content, and how these decisions can impact your data budget.




It's important to manage your

data budget as you crawl. Only unsaved test crawls can be deleted; no other kind of crawl can be deleted.
Types of crawls - There are different types of crawls to best support the Archive-It workflow. For all of these crawls, it's important to note that only New Data will be added to your account, due to our data deduplication feature.

Test Crawls

- Test crawls hold the data temporarily for 60 days, so you can review them before saving or deleting.

Once saved, test crawls can not be deleted. Because the data in a test crawl is held temporarily until it is saved, the only place to see the archived pages from a test crawl report's seed report.
One time production crawls - The alternative to a test crawl is a production crawl. These permanent crawls automatically add data to your data budget and can not be deleted.
Scheduled crawls - Once you have run a test crawl, you're ready to schedule crawls to run on a schedule that you set. Please note that scheduled crawls will automatically add the data to your budget and can not be deleted.

Crawling technologies

- Archive-It has different crawling technologies that can (and should!) be used to capture different kinds of content
Best Practices for first time crawls include:
Select 10 or fewer seeds at a time (if possible)
Use the Standard seed type, unless you know you only want One-Page (avoid + seed types for now)
Crawl Type - Test
Time Limit - 5 days
Crawling Technology - Brozzler
After completing the readings and videos in this section, you'll understand how to review your completed crawls and use the Quality Assurance tools.
Getting the most from your post crawl reports - So you've run a crawl... now what? This ~7 minute video walks through each part of the crawl report with insight into each of the three sub-reports, and the information you can glean from them.
What should I check first in a crawl report?
Understanding your Hosts Report - This ~8 minute video digs into how to use the Host Report to learn what was and was not captured in a specific crawl.
Quality Assurance - What can you do if your archived websites don't look quite right in Wayback? Following this checklist may help you improve the capture and replay of your Wayback pages.



After completing the readings this section, you'll understand the options for describing and sharing your content.
Metadata - There are multiple ways and places to describe your crawled content. Please note that adding the same metadata in multiple places will result in duplicate descriptions.
You can control access to your web archive so that patrons, the general public, and/or your Archive-It users can, or cannot, view specific content that you designate.
Access your archived pages from inside your account or via archive-it.org.
Use the suite of Archive-It APIs to provide access to your web archives from your own domain, and integrate with other tools and services.
Now that you have an overview of Archive-It, we encourage you to jump in! After you've run some test crawls, you can sign up for Office Hours and a Web Archivist would be happy to chat with you.
And remember- web archiving is a learning experience! As you learn more about the sites that you collect, you can find and share tips here in the User Guide or Community Forum.